My first batch of chicks came home at the beginning of April. Easter weekend. My Easter Peeps were cute and yellow and fluffy. Three weeks later their siblings arrived. They were cute and black and fluffy with little yellow butts.
Over the months we have had our brood of chicks we have watched them grow. The early days were lightening fast. Every morning's peek into the incubator brought a new size chick. Sometimes it seemed in the blink of an eye they grew.
As of late, the chicks (now teenage chickens) have been in a holding pattern. Day after day I greet them each morning and free range them each night and I see no change. The Buffs are the Buffs, the Dominques remain demure and Betty the Bard Rock is unchanged. Would they EVER get big? Would they EVER become chickens?
A few weeks ago my husband and I went on a long awaited pilgrimage/vacation to where I was born. A long weekend to celebrate his birthday, my class reunion, a family reunion and our first wedding anniversary. Apparently, when you jam-pack that much into a four day weekend the chickens decide to pack on the pounds.
We left on a Thursday. I told the ladies to be good... I told our teenager he was on high alert as Chicken Guardian.
We returned on a Monday night. We returned to CHICKENS. In the span of just five days my chickens went on an eating/growing frenzy! Thank goodness for the color coded ankle bracelets we gave the ladies the week before or I would not have known my girls. They were bigger. They were taller. And just as anxious to be set free and free range.
They each have their little combs. Their tail feathers are a bit bigger. They stand a bit more proud. My girls are growing up nicely and, while I miss their little peeps, I love what they have become.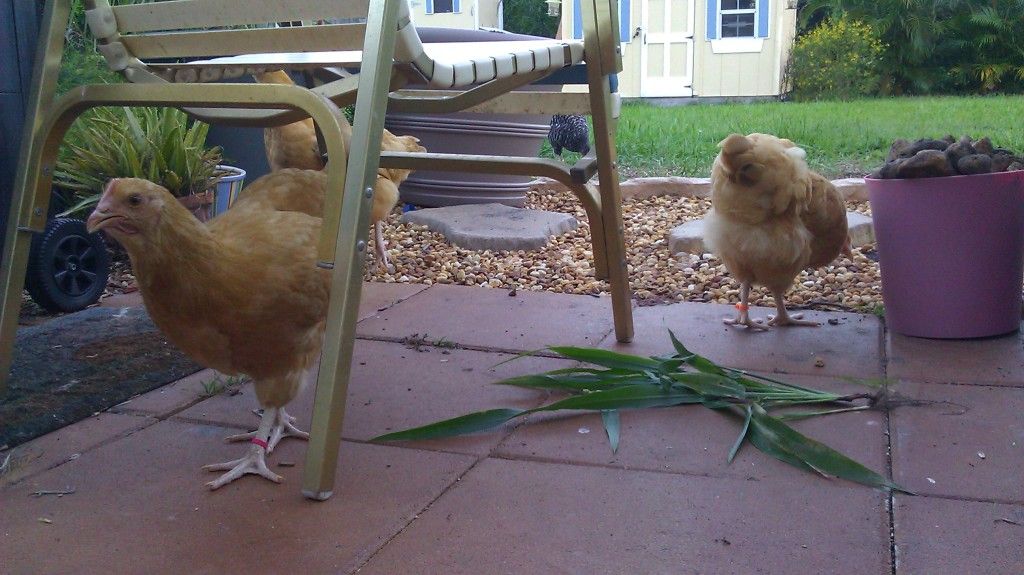 Fran & Marie on the patio